How Can Smaller Businesses Bounce Back after Extreme Weather?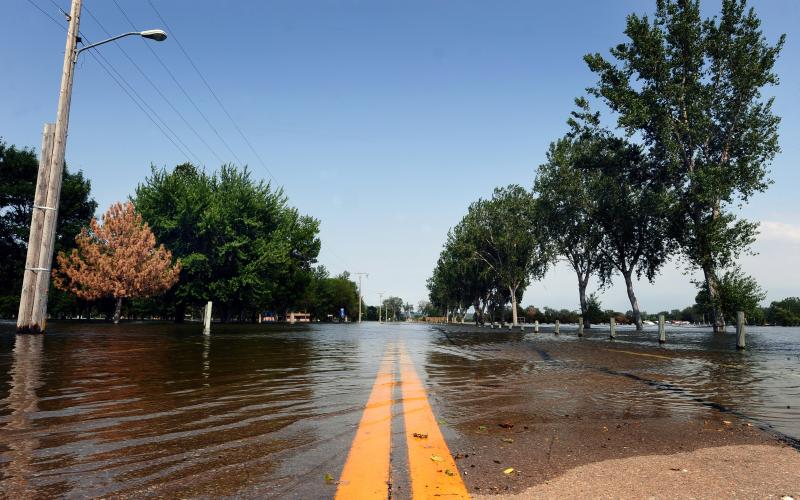 U.S. Air Force photo by Josh Plueger/Released
Extreme weather events like hurricanes, flash floods and heatwaves are predicted to increase in intensity and frequency due to climate change. A group of researchers studied the barriers small and mediumsized businesses face in their attempt to bounce back after being hit by extreme weather, to find out which internal and external factors hamper businesses from getting back on their feet quickly.
By Laura Small • November 2, 2018
Halkos, G., Skouloudis, A., Malesios, C., and Evangelinos, K. (2018) Bouncing Back from Extreme Weather Events: Some Preliminary Findings on Resilience Barriers Facing Small and Medium‐Sized Enterprises. Bus. Strat. Env., doi: 10.1002/bse.2019.
2017 was the most expensive hurricane year ever in the United States. Hurricanes caused more than $200 billion in damage to the Florida Keys, Houston and Puerto Rico. Many businesses were directly impacted, with flooded stores or destroyed fishing boats. Some businesses located outside the hurricane's path saw large indirect impacts, if they relied on customers that were hurt financially by an event. Extreme weather events like hurricanes impacts businesses in a cascading effect, hamstringing the local economy and reducing sales for businesses located further away. While those in the immediate path of destruction can receive governmental compensation in the United States, companies outside the affected areas are not eligible. According to the U.S. National Climate Assessment, extreme weather events such as hurricanes, wildfires, floods and heat waves are going to increase in frequency and intensity in the future. Businesses will likely see a commensurate hit to their bottom line.
What's stopping businesses from building up protection before disaster strikes? A new study by George Halkos, Antonis Skouloudis, Chrisovaladis Malesios and Konstantinos Evangelinos, published in Business Strategy and the Environment, strives to find out. The study authors looked at the barriers small and medium-sized enterprises (SMEs) face when prepping for disasters. They focused on Europe, where 99% of the businesses are SMEs, and specifically looked at the Attica region of Greece, which has been experiencing intense flash flooding in recent years.
The researchers distributed a survey in Attica, and then applied structural equations modeling to the results. With structural equations modeling, researchers can study not just what survey respondents say, but also the underlying links which may connect responses. For example, if respondents to a hypothetical survey say they want ice cream and don't want tomato soup, they may share a preference for sugar or a warm location. Structural equations modeling helps tease out these underlying factors, showing whether respondents have a sweet tooth or are sweating it out in the tropics.
About 100 SMEs in Greece answered the survey. Using structural equations modelling to peer into their responses, the study authors identified a number of key road blocks stopping SMEs from building resilience. Inside a company, one critical issue is a lack of resources (both time and money) to prepare for a disaster. Creating emergency plans and squirreling away rainy-day funds are investments that some small businesses may not be able to make. This is probably made worse by another key barrier: a perception that preparing for natural disasters doesn't make a difference. Why spend the money on something that is just a bureaucratic exercise? Excessively complex regulations, as well as poor guidance and support from local and national governments, also present critical challenges to SMEs.
While these findings are specific to Attica, they have broader implications. Key ways to help SMEs become more resilient may include providing resources such as funding and training, helping businesses get the training and support they need, and ensuring management has a good understanding of risks linked to extreme weather. Researchers interested in climate adaptation and resilience should focus on studying the SME sector, and not just large companies.
The study authors also suggest a few ways to help SMEs. Policymakers can create economic incentives for disaster preparation, such as tax reliefs, subsidies, or reward schemes. Governments could create "climate services," where the private market provides climate change guidance and resilience measures to assist SMEs. Local leadership could facilitate the growth of multi-stakeholder working groups to brainstorm local strategies for resilience. SMEs can also invest in ideas coming out of these groups, either together or individually, to drive innovation in the resilience space.
Efforts to help businesses cope with extreme weather should be diffuse, not just in places that will feel the initial brunt of an extreme weather event. In our increasingly interlinked world, when a storm cripples a city like Houston or New York for weeks or months, the negative impacts are global. As climate change marches on and extreme weather events occur more often and more severely, businesses everywhere should consider how they can better prepare.
You might like these articles that share the same topics