Ocean acidification: A pressing threat to coral reefs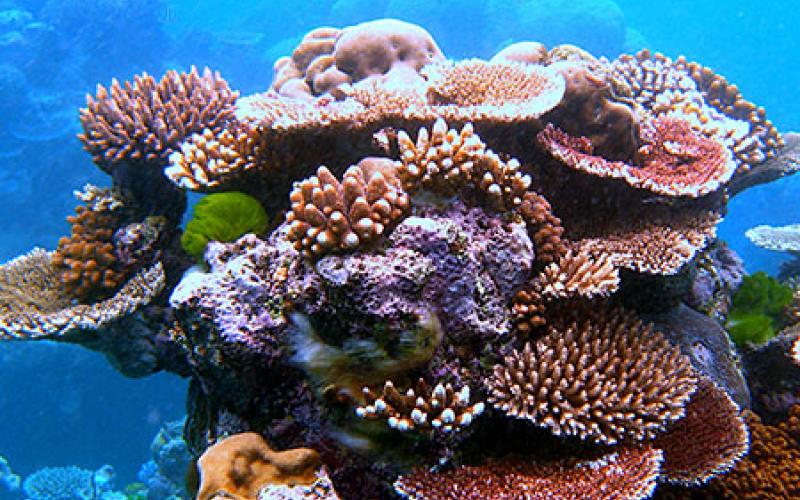 Climate change is making oceans more acidic. Will coral reefs survive in those conditions? A new publication investigates the effects of ocean acidification on corals, and the results are terrifying.
By Lara Iwanicki • August 8, 2016
Original Paper:
DeCarlo, Thomas M., Anne L. Cohen, Hannah C. Barkley, Quinn Cobban, Charles Young, Kathryn E. Shamberger, Russell E. Brainard, and Yimnang Golbuu. "Coral macrobioerosion is accelerated by ocean acidification and nutrients." Geology 43, no. 1 (2015): 7-10. DOI: http://dx.doi.org/10.1126/sciadv.1500328
An invisible threat is creeping its way down into the ocean. And it is moving fast. Driven by a changing climate, a process known as "ocean acidification" will dramatically affect marine life in the next few decades. This scenario will be particularly concerning for coral reefs, one of the richest yet vulnerable marine ecosystems.   
 
In a recent paper published in the journal Geology, a team of scientists, led by Thomas M. DeCarlo of the Woods Hole Oceanographic Institution, investigates the impacts of ocean acidification on the ability of corals to grow and thrive. The results are troubling; they not only confirm ocean acidification's contribution to coral degradation, but also show that this process occurs 10 times faster in nutrient-rich waters.
 
Coral reefs grow by accumulating calcium carbonate through a mechanism called calcification. Increasing levels of CO2 in the atmosphere react with seawater, reducing the availability of calcium carbonate for corals to grow. As a result, corals become more vulnerable to organisms that consume them in a process known as bioerosion. Since calcium carbonate is less available in acidic environments, researchers used the concentration of this mineral as an indicator of ocean acidification impact on coral reefs.
 
For the study, researchers collected 103 skeleton samples from healthy corals within seven reef systems ranging from Palau to Panama. To explore the interaction of nutrients and acidic seawater on coral reefs, the team collected samples in both nutrient-rich and poor waters. Next, a three-dimensional imaging technology scanned skeleton samples to obtain information such as coral growth and length. Researchers also developed a computer program to estimate calcification and bioerosion rates.
 
In nutrient-poor waters, bioerosion rates increased as calcium carbonate concentration decreased. This result means that ocean acidification alone is a driver of coral bioerosion, which is consistent with other field studies and laboratory experiments. In nutrient-rich waters, corals were 10 times more sensitive to bioerosion than in nutrient-poor conditions. In other words, high nutrient levels speed up the effects of ocean acidification.
 
It is important to note that bioerosion is a natural process. As long as calcification outpaces erosion, corals will thrive. However, bioerosion rates tend to increase in nutrient-rich waters because there is more food available to organisms that consume corals. In addition, disintegration of coral skeletons is more pronounced in acidic waters, which makes them more vulnerable to bioerosion. Therefore, effects of ocean acidification on coral reefs will be aggravated under high nutrient conditions.
 
The results of this research support predictions made by previous studies that coral reefs will indeed be negatively impacted by climate change. Since most coral reefs are near areas with intense coastal development and nutrient discharge, unprecedented and perhaps irreversible changes to coral reefs are likely to occur within the next years. Immediate action on global carbon emissions and management interventions in coastal zones are critical to avoid a devastating scenario.
You might like these articles that share the same topics