Lessons learned from large-scale river restoration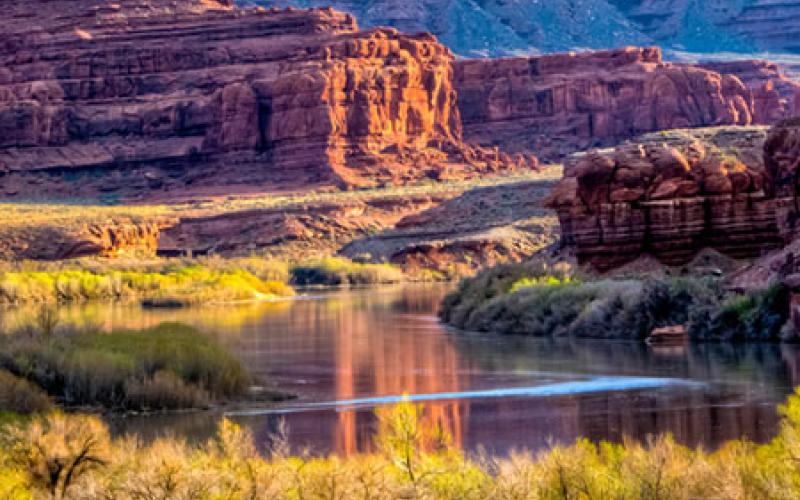 Doug Meek via Shutterstock
Public-private partnership approaches to natural resource management are on the rise. Members of the Dolores River Restoration Partnership share how they collectively work toward large-scale river restoration.
By Lindsey Ratcliff • November 2, 2015
Original Paper:
Oppenheimer, J. Daniel; Beaugh, Stacy K.; Knudson, Julie A.; Mueller, Peter; Grant-Hoffman; Clements, Amanda; and Wight, Mike. March 2015. "A collaborative model for large‐scale riparian restoration in the western United States." Restoration Ecology, 23, 143-148. DOI: http://dx.doi.org/10.1111/rec.12166
Large-scale restoration projects that stretch across jurisdictional boundaries present unique challenges to environmental managers. Successful river restoration projects of this magnitude require expertise from varying fields such as ecology, finance, and management. Public agencies and conservation organizations work together to avoid expensive litigation and debilitating stakeholder divisions typical of large-scale restoration. One example of successful collaboration is the Dolores River Restoration Partnership, which is working to restore 175 miles of a river that stretches through southwestern Colorado and eastern Utah. The Dolores River, which was once overrun by tamarisk and other harmful invasive plants, sets the scene for an informative case study.
 
Members of the Dolores River Restoration Project recently published an article in Restoration Ecology toshare the techniques they used to achieve these goals. The authors surveyed partners, reviewed meeting minutes, and analyzed planning documents to reveal four key tools integral to partnership success: (1) effective planning, (2) responsive governance, (3) valuable monitoring, and (4) collaborative learning.
 
In the first stage, environmental professionals from The Nature Conservancy and Tamarisk Coalition led a two-year planning process with private landowners and government agency managers. The collaborative planning effort focused on building trust and relationships by first identifying common stakeholder goals. This was achieved through site visits, individual meetings, and facilitated group meetings intended to instill a sense of shared ownership over partnership decisions. The planning process produced an action plan detailing guiding principles that the Dolores River Restoration Partnership refers to when making restoration choices. The Partnership also created a transition plan describing how it should switch efforts from active restoration to monitoring and maintenance over time.
 
Throughout the planning process, the Partnership built a governance structure encompassing a network of individuals and organizations. The governance structure included a core team and four subcommittees. Chairs of each subcommittee made up the core team along with a facilitator and a Bureau of Reclamation representative.  Due to collaborative planning techniques, the Partnership maintained clear, but flexible, goals and objectives to allow for shifting needs and ideas. A Memorandum of Understanding provided important oversight by establishing specific roles and responsibilities for all partners while highlighting commitments to the action plan.
 
Monitoring of restoration progress is integral to the success of the Partnership. Using the action plan as a guide, project monitoring evaluates progress, compares methods, and addresses evolving needs. The Dolores River Restoration Partnership engaged scientific consultants and statisticians during the early stages of the project, which has aided in producing clear, communicative, and quality monitoring reports.
 
Lastly, the Dolores River Restoration Partnership identified collaborative learning as one of the action plan's management goals. The Partnership encouraged all partners to interact and share lessons learned at both the subcommittee and core team levels.
 
Members of the Dolores River Restoration Partnership successfully leverage effective planning, responsive governance, valuable monitoring, and collaborative learning to restore the Dolores River. Its creators hope the lessons learned through this case study provide insights for other emerging restoration initiatives.
You might like these articles that share the same topics