Fungi can improve agricultural efficiency and sustainability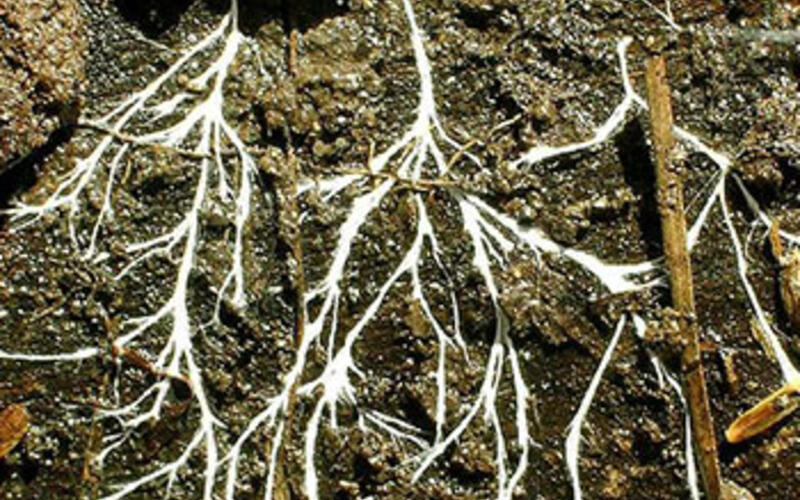 A recent study shows that soil microorganisms can improve the production of major crops like corn and wheat, while also reducing the environmental impact of excess fertilizers.
By Colin Brown • October 8, 2015
Original Paper:
Bender, S. F., & Heijden, M. G. "Soil Biota Enhance Agricultural Sustainability by Improving Crop Yield, Nutrient Uptake and Reducing Nitrogen Leaching Losses." Journal of Applied Ecology. 2014 DOI: http://dx.doi.org/10.1111/1365-2664.12351
Over the last century, improvements in agriculture have allowed huge increases in production efficiency — more food grown on less land. Synthetic fertilizers — "man-made" nutrients — come in a pure form, and allow farmers to quickly and cheaply apply inputs to their fields. However, the production and use of synthetic fertilizers comes with several drawbacks, some of which, ironically, follow from their advantages. For example, the low cost of nitrogen fertilizers, paired with weak regulation, has driven farmers to apply these fertilizers in amounts greater than are needed by the crop. Because nitrogen fertilizer dissolves quickly in water, it can leach; that is, excess nitrogen ends up moving downwards through the soil, where it contaminates groundwater. Alternatively, excess nitrogen can off-gas into the atmosphere, where it contributes to global warming.
 
Bacteria and fungi in the soil have the ability to increase nitrogen in the soil through decomposition of organic matter. They can also decrease the amount of nitrogen in the soil by consuming nitrogen and converting it into protein. There is also a rare, third function: a type of fungi known as arbuscular mycorrhizal fungi, or AMF, can form partnerships with plants, scouring the soil for nutrients in exchange for sugars from the plant. It's not a mushroom like some fungi; instead, it is more like an underground web of fungal threads — called "hyphae" — that can access places that plant roots cannot. From the plant's perspective, it can "see" more nitrogen, even though the concentration of nitrogen in the soil is the same. While a good deal of scientific literature exists on the role of AMF in improving phosphorus availability to plants, previously there was a gap in the scientific literature regarding the interception of nitrogen by AMF.
 
A team of researchers at the University of Zürich, Utrecht University, and Agroscope, a research arm of the Swiss government, wanted to find out whether AMF decreased the amount of nitrogen lost to leaching on agricultural land. To do so, the team used outdoor lysimeters, essentially large, buried containers that collect draining water from each plot in the study. Half the plots received an inoculation enriched with AMF and other microorganisms, while the other half received an inoculant with several microorganisms but without AMF. The researchers monitored the growth of maize and wheat crops on the plots over the next two years, adding fertilizer at the beginning of year two.
 
After one year, the AMF treatment significantly reduced nitrogen leaching and, strangely, significantly increased phosphorus leaching relative to the untreated plots, according to the findings published in the Journal of Applied Ecology. This pattern changed by the end of the second year: there was no longer a difference in nitrogen or total phosphorus leaching between treatments. However, the researchers also noted that by the second year AMF had colonized the untreated field, which was possibly due to transfer of the fungi with windblown dust. Crops fared better with the AMF inoculant in both years, significantly increasing in both weight and nutrient content. 
 
From the results, the researchers concluded that the AMF had intercepted additional nitrogen and phosphorus from the soil, thereby improving the efficiency of plant nutrient use. This phenomenon had the benefit of improving plant growth while decreasing the loss of nutrients to the atmosphere or via leaching. The researchers suspect that the increased leaching of phosphorus was due to the AMF's ability to access the phosphorus normally tightly locked to soil particles. This finding shows that farms with inoculated soils may be able to get away with using fewer nitrogen and phosphorus fertilizers — which means less environmental impact from excess fertilizer exiting into the environment, and fewer natural resources (like fossil fuels) used to create synthetic fertilizers in the first place.
 
Soil microorganisms in agricultural soils seem to play an important role in nutrient cycling, but the body of literature is still relatively undeveloped. Such studies show that farmers could find some value in better understanding the interplay between plants, soils, and microorganisms in their fields. However, scientists still do not understand AMF enough to make specific recommendations to farmers. For example, it's not clear how well AMF can cope with frequent tillage; a practice which tends to disrupt the fine network of threads that AMF needs to function and survive.
 
As the world population grows, there is a need to find more efficient and more sustainable ways to grow our food. If efficiency stagnates, or if current agricultural land degrades, we will need to find new land on which to grow crops. More often than not, this new agricultural land will come at the cost of the world's forests. Studies like the one above show that there could be ways to accomplish both efficiency and sustainability in unison, but more research is necessary to turn these findings into real-world application.
You might like these articles that share the same topics