Dry times lead to the blues: Drought takes a mental toll on public health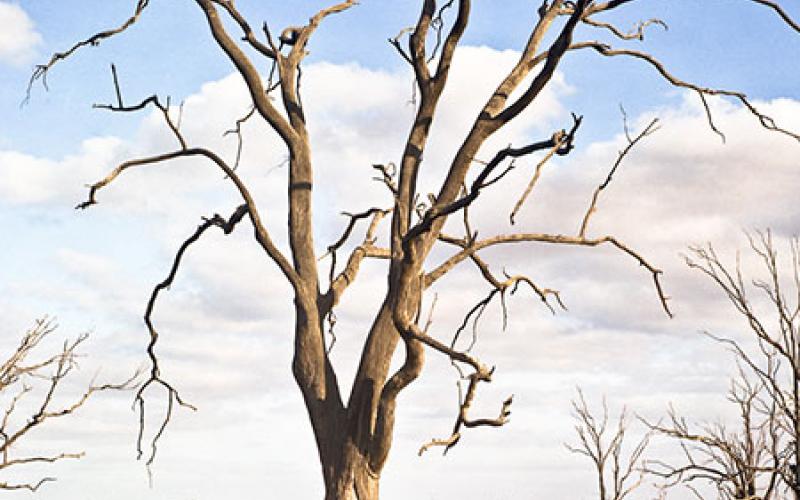 Drought is a common and widespread occurrence in the United States. A new study explores the complex relationship between drought and mental health by creating a causal process diagram that can be used to guide further prevention efforts, public health programming, and vulnerability, and risk assessment.
By Caroline Muraida • September 26, 2016
Original Paper:
Vins, H.; Bell, J.; Saha, S.; Hess, J.J. "The Mental Health Outcomes of Drought: A Systematic Review and Causal Process Diagram." International Journal of Environmental  Research and Public Health 2015, 12, 13251-13275. DOI: http://dx.doi.org/10.3390/ijerph121013251
Water scarcity is a familiar reality for many Americans. In 2012, roughly 62 percent of the contiguous United States suffered moderate to extreme drought. Most recently, severe conditions in California prompted an executive order from the governor's office to reduce water use. Prolonged periods of drought are often categorized as slow-moving disasters. Like other extreme weather events, droughts cause debilitating damage to infrastructure; they restrict access to services and cause profound strains on agriculture and the availability of fresh water. Droughts also increase amounts of air-borne dust and particulate matter, creating physical health impacts across communities. New research shows extreme weather conditions can also negatively affect mental health.
 
A team of researchers led by Holly Vins from the Rollins School of Public Health at Emory University has examined a broad sample of current works linking drought effects and mental health outcomes. The study, published in the International Journal of Environmental Research and Public Health, involved a systematic review of 82 articles that used a variety of methods in several distinct contexts across a wide-range of countries. The authors synthesized results to construct a useful tool for understanding causal processes. This tool describes several pathways linking drought to mental health outcomes. Last, the team examined risk and protective efforts of communities facing drought, highlighting potential paths for intervention.
 
Individuals and communities whose occupations are closely linked to agriculture experience extreme stress from declined production, crop loss, and livestock fatigue. Their mental health is adversely affected by the severe economic stress of drought. People experience climate-stress in many ways, both in the workplace and in their homes. The personal and social pressures of drought-related financial struggles often result in depression, anxiety, and in some cases, suicide.
 
Similarly, those who are forced to migrate in response to water scarcity are among the most affected by mental health illness. People experiencing this type of displacement are increasingly referred to as climate refugees. They can suffer social and geographical isolation, as well as disrupted family and community relationships. In addition, researchers describe the presence of a feedback loop wherein drought-fueled migration contributes to the erosion of a resource base, thus worsening the initial conditions from which migrants are originally leaving. Findings show that greater intensity of weather events yields greater intensity of mental health effects.
 
Solutions haven't dried up yet. While reviewing vulnerable populations, researchers also identified coping mechanisms and protective factors that provide them resilience. Rural and indigenous communities are categorized as particularly vulnerable due,in part, to cultures of self-reliance that may interfere with help-seeking behaviors and limit effective adaptation to disasters. However, the same characteristics that contribute to vulnerability may also be profound sources of strength. These communities have solid connections to place and often find resilience in relationships and informal support networks.
 
Drought is both a human-made and natural disaster that carries lasting adverse mental health effects. This review brings an understudied subject to light, providing policymakers, planners, and public health advocates with casual information for prevention and treatment.
You might like these articles that share the same topics