Drought and cooperation in a conflict zone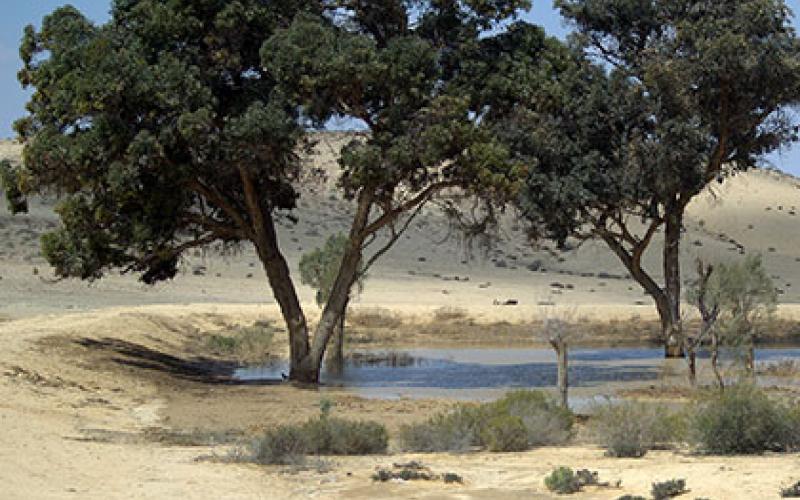 Despite decades of tension, a new case study reveals that Muslim Bedouin herders and Jewish farmers cooperated during the severe drought of 1957 to 1963, offering new insights into how societies deal with environmental changes.
By Yanin Kramsky • June 30, 2016
Original Paper:
Tubi, A., & Feitelson, E. "Drought and cooperation in a conflict prone area: Bedouin herders and Jewish farmers in Israel's northern Negev, 1957–1963." Political Geography (2016). DOI: http://dx.doi.org/10.1016/j.polgeo.2015.11.009
The semi-arid northern Negev region has been a battleground for decades. Severe droughts have led to a range of conflictive and cooperative interactions between Muslim Bedouin herders and Jewish farmers. While farmers have expanded farmland into grazing areas, herds belonging to Bedouins have also grazed on farmers' crops. Droughts place additional pressure on productive land, which further amplifies tension between the two groups. Although climate change and resource scarcity are often linked to conflicts such as this, a clear causal relationship has not been identified. Furthermore, cooperative responses to resource scarcity are also apparent throughout history; yet, these cases are not given the same degree of attention. Decades of interactions between Bedouin herders and Jewish farmers have shown that resource scarcity can also lead to increased mutual interests and cooperation.
 
In a recent paper published in Political Geography, researchers examined archival documents describing interactions between Muslim Bedouin herders and Jewish farmers during a prolonged drought from 1957 to 1963. Tracing letters written by Bedouins and Jewish farmers, reports, correspondences, and meeting protocols provided by the Ministry of Agriculture (MoA), the researchers found not only instances of violence, but also cooperation and assistance. They concluded that conflict arises from environmental changes only when states have a limited capacity to manage disputes, compounded by factors like unequal resource distribution.
 
Through a review of archival documents, the researchers unraveled the complex history of the northern Negev region. Jewish immigrants fleeing European countries in the early 1940s hoped to expand the future Jewish state in Palestine by establishing communities in the Negev. Of the 25 settlements that were established, a majority were Kibbutzim based on communal production and consumption. Their Zionist ideology called for uniting Jewish people on a common land. However, prior to the Jewish immigration, the Negev was already inhabited and de-facto controlled by Bedouin tribes. While some left-leaning Kibbutzim were committed to Jewish-Arab political cooperation and supported bi-national rights, others held centrist political beliefs and advocated for a partitioning of the country.
 
The Bedouin's reliance on pastoralism and dry-farming was very different from the cultivation of field crops practiced within Jewish settlements. Regardless, relations between the two groups remained cooperative. Jewish farmers bought manure from Bedouin herders and provided crops as fodder. Bedouins had access to water infrastructure in the settlements and farmers relied on Bedouin sheiks for security purposes. Joint committees were also established.
 
In 1947, the United Nations formally established the state of Israel, which led to escalating tension across the region. Bedouins fled, were expelled from their land or were converted to Israeli citizens, confined to a small portion of land under military rule. Immigration continued and the Negev was soon populated with many Kibbutzim andMoshavim, co-operatives based on household-level farming. This set the stage for future interactions between Bedouins and Jews in the region. Soon after, Bedouins became a marginalized minority, isolated from Jewish society and restricted to confined zones lacking adequate water supplies. Farmers no longer relied on neighborly relations with Bedouin communities because they were now supported by the state of Israel.
 
With the drought, crop losses and reduced prices for withered yields threatened Jewish farming communities. At the same time, Bedouin herders faced an increase in livestock mortality and diminishing water supplies. While Jewish farmers could rely on irrigation as a safety net, Bedouin herders did not have access to any alternatives. Although the probability of conflict became more likely, the state deterred violent outbreaks by enforcing military rule and allocating economic resources.   
 
Despite these arising tensions, only five violent events were reported during the drought period. Yet, cooperative actions mediated by the MoA continued. For example, Bedouin herders reimbursed farmers for the water they provided to livestock, and Jewish farmers transported Bedouin goats and sheep to their fields. Direct and indirect measures taken by the state continued to appease any tension apparent between the two groups. The police and military removed herds from cultivated lands and compensated farmers for crop damages. Livestock corridors were marked between fields where sheep were allowed to graze. Farmers even received grants and loans to deal with the impacts of the drought. Bedouin herders, on the other hand, received direct aid, provisions of food and water, and alternative income sources. Even though both groups received help, they were not compensated evenly.
 
Relief activities and mutually beneficial policies reduced the likelihood of conflict between Bedouin herders and Jewish farmers during the 1957 to 1963 drought. Political affiliations and spatial proximity also played a significant role in shaping relations between the two groups. Violence broke out when conflict resolution mechanisms were not in place. However, groups that had previously secured trust and established relations also experienced increased mutual support during the drought period.
 
Moving forward, the positive impacts of policies and local initiatives that foster trust and dependability must be acknowledged. As climate change challenges grow and tensions over water persist in the Middle East, it is imperative to learn lessons from history. How can we acknowledge historic patterns and view interactions in conflict-prone areas through the lens of cooperation? Recognizing instances where cooperation prevailed can help pave a different path forward, a path toward peace building and self-determination.
You might like these articles that share the same topics