Deadlier than intended? Pesticides might be killing beneficial insects beyond their targets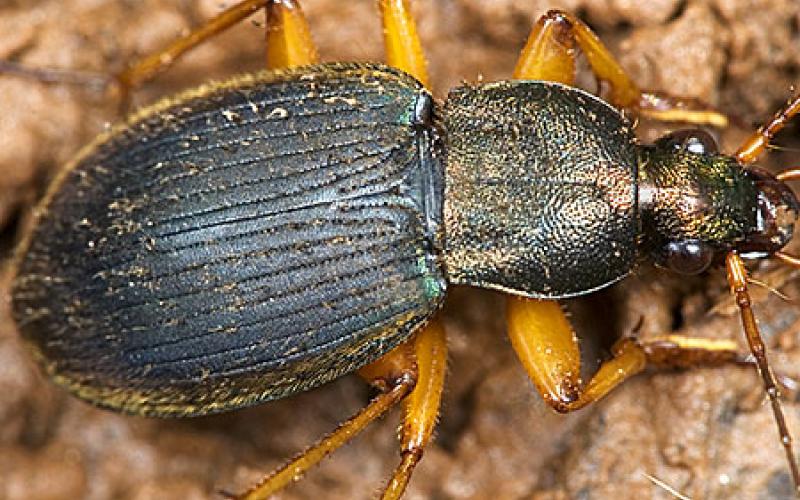 Insecticides are used widely with the objective of protecting crops from insects and increasing agricultural yields. A new study suggests that with some insecticides the opposite may be happening.
By Paloma Caro • July 7, 2016
Original Paper:
Douglas, M. R., Rohr, J. R., Tooker, J. F. "Neonicotinoid insecticide travels through a soil food chain, disrupting biological control of non-target pests and decreasing soya bean yield." Journal of Applied Ecology, 52: 250–260 (2015). DOI: http://dx.doi.org/10.1111/1365-2664.12372
Insecticides are chemicals used widely in agricultural production in the U.S. to increase crop yields. Depending on the chemical composition, each insecticide is capable of killing a specific range of insects. However, in recent years, a popular class of insecticides has come under scrutiny for affecting insects outside their targeted range of action. Some researchers have linked the neonicotinoid class to the decrease of bee populations around the globe. A recent study suggests that some neonicotinoids might not only act outside their specified range on bees, but also on other beneficial insects important for agriculture such as beetles. This decline in beneficial insects may have a negative effect on soy production yields.
 
A team of researchers led by Margaret Douglas, from Pennsylvania State University, studied how the use of the neonicotinoid thiamethoxam on soy seeds affects beneficial soil insects. In the paper published in the Journal of Applied Ecology, the authors hypothesized that the chemical moves through food webs. In order to test this hypothesis, the team studied the interactions between soy seed and slugs, and between slugs and beetles. They chose these interactions because slugs are critical pests for soy production, and beetles are main slugs' predators.
 
Through a series of laboratory and field experiments, the study showed that small insecticide concentrations are passed along the food chain until they reach beetles. While slugs (Deroceras reticulatum) are serious pests for soy, they are not classified as insects and are not affected by these insecticides. However, the amount of insecticide found in slugs is enough to harm or even kill beetles (Chlaenius tricolor). From an agricultural perspective these interactions are important, since beetles play a crucial role in controlling pests in farms. The overall decline in beetle activity leads to an increase in the slug population. Slugs consume the new seedling, which reduces the number of plants, thus decreasing the total crop yield.
 
The researchers tried to reflect the conditions of the majority of soy farms in the country. For the field experiment, the team chose a field that had been farmed with no-tillage technique; a practice widely use in soy farms that unintentionally promotes slug infestation. Additionally, many farmers use insecticides, such as thaimethoxam, to coat seeds to protect the plant from insects in both the seed and sprout stages. Considering the frequent use of these practices, it is possible to infer that the damage on beetles might more extended than expected.
 
The findings of this research highlight the importance of considering the ecological interactions between neonicotinoids and insects, both targets and non-targets. These pesticides might threaten different species of beneficial insects in the ecosystems. Similarly, in addition to increasing slug infestation in soy crops, the use of neonicotinoids might do the same in other crops such us cereals and strawberries. As well as ecological implications, farmers must consider economic factors. In order to determine the economic losses produced by the decline of beneficial insects, further research is necessary.
You might like these articles that share the same topics