Pulling in the public to embrace the adoption of electric vehicles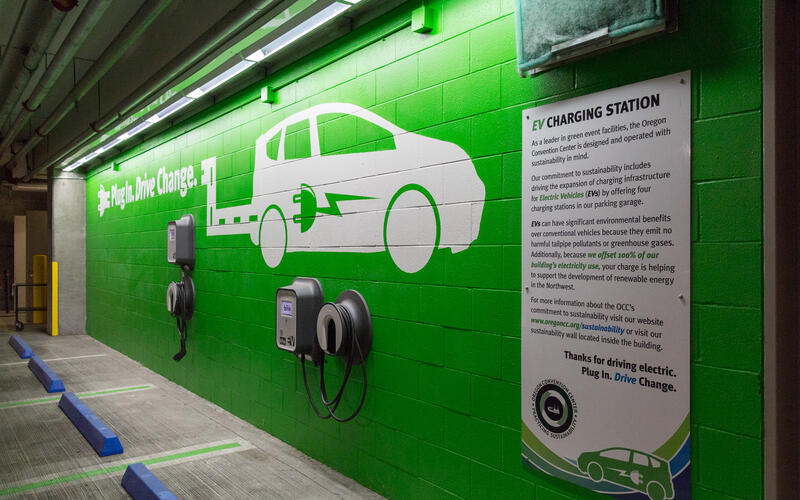 Oregon Convention Center via Wikimedia Commons
Policy interventions such as effective incentive and reward-based "pull measures", rather than restrictive penalty-based "push measures", can be instrumental in shaping the public's perception of clean transportation adoption. Policy makers can leverage this knowledge to design policies that influence public behavior positively and enable the public to make more environmentally conscious choices.
By Niraja Chopade • March 2, 2021
Brückmann, Gracia Maria, and Thomas Bernauer. "What drives public support for policies to enhance electric vehicle adoption?." Environmental Research Letters (2020).
With the growing impacts of climate change, the push to decarbonize is at an all-time high. The transportation sector, one of the biggest contributors to global warming, is slowly warming up to the potential of electric vehicles (EVs) in order to accelerate its transition to a less carbon intensive future. Understanding the public's motivations to adopt electric vehicles is crucial to enhancing the effect of policy levers that can help accelerate the wide-spread deployment of electric vehicles. 
Dr. Gracia Bruckmann and Dr. Thomas Bernauer at ETH Zurich set out to understand factors that influence public decision-making by assessing the determinants of public support for EV adoption in Switzerland. Despite Switzerland's high per capita GDP, a generally pro-environment attitude, and the Switzerland government's emphasis on further pushing the already high share of renewables in their electricity mix, only 1.7 percent of new cars registered were EVs. The findings, published in August 2020 in Environmental Research Letters, were based on conducting choice experiments – a research methodology that offers participants finite alternatives in hypothetical situations.  This research contributes to further understanding of public support and complementary policy measures for EV adoption. Additionally, it focuses on the impact of funding information on support for policy to increase EV adoption.  
Policy makers usually rely on either push measures, which are non-voluntary and penalizing, or pull measures, which are market-based and voluntary, to influence successful adoption of policies. Among both owners and non-owners of EVs, pull measures such as government subsidies and deployment of new charging infrastructure were viewed more positively in the study. This means that pull measures can be used to drive public support for EVs rather than push measures such as carbon taxes and regulation to phase out combustion vehicles. Surprisingly, even non-owners of EVs, who currently do not benefit from the charging infrastructure, were unopposed to building a robust charging infrastructure network. 
The study also found that irrespective of the funding sources mentioned, the overall support for policies with pull measures that provided large scale expansion of charging infrastructure was very high. However, researchers observed a split in support of pull subsidies depending on the funding source. While 52 percent of the research participants supported the pull subsidy knowing it will be funded by tax-payer money, 48 percent were opposed to it. Knowing this can help policy-makers focus on the right pull measure to enable large scale support for the policy. EV owners were also more willing to be more supportive of the harsher push measures to discourage the use of fossil fuel cars. This may have to do with EV owners' general awareness and views on the societal benefits of electric vehicles.  
These findings can help policymakers push for more ambitious pull measures to drive the adoption of EVs. The results are particularly helpful given the overall supportive attitudes of EV owners. This could likely increase the overall support for EVs in the larger private car owning population due to a steady growth in the share of EV owners. If used effectively, the policy interventions can help countries navigate the transition to a carbon-neutral future successfully.