Global Supply Chains Failed in the Face of COVID-19. How Can We Build Back Stronger and More Resilient?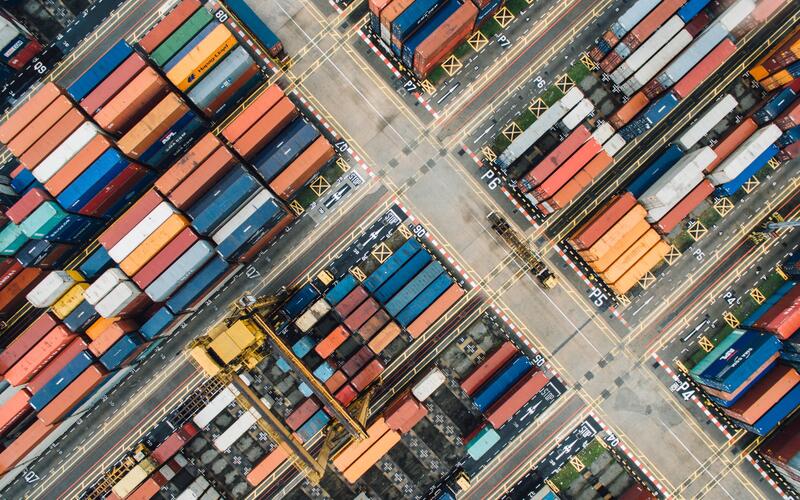 Image by chuttersnap via Unsplash
The pandemic has shaken global supply chains, highlighting the importance of enhanced management and fresh priorities. New research finds top factors to increase supply chain resilience to future disruptions.
By Talia Rubnitz • November 9, 2021
Manu Sharma, Sunil Luthra, Sudhanshu Joshi & Anil Kumar (2020): Developing a framework for enhancing survivability of sustainable supply chains during and post-COVID-19 pandemic, International Journal of Logistics Research and Applications, DOI: 10.1080/13675567.2020.1810213 
From empty store shelves and price gouging to insufficient medical equipment and large-scale food waste, COVID-19 exposed the vulnerability of modern supply chains. When the global movement of goods screeched to a halt, everyone felt the impact. While this has pushed some to navigate the toilet paper and bucatini black markets, the ramifications for the medical community have been much graver. Hospitals and front-line workers have struggled to procure face masks and other crucial protective equipment. 
Globalization and expanding markets have made it trickier for businesses to manage the global flow of goods. To reach goals faster and easier, some supply chain managers have reduced collaboration and transparency. However, this isolation has made supply chains less flexible to major disruptions. The corporate world must now work to increase resilience to successfully recover from the pandemic and absorb future shocks from disturbances. While the new normal remains elusive, one thing is certain: supply chain management needs a reboot.   
In a recent study published in the International Journal of Logistics Research and Applications, researchers from India's Doon University, Ranbir Singh State Institute of Engineering and Technology, and London Metropolitan University discuss ways to enhance the resilience of supply chains in the wake of COVID-19. By conducting a series of literature reviews, the authors identified an assortment of important criteria to achieve this goal. They then consulted with experts and employed statistical analyses to rank each factor – finding that viability is key to enhancing supply chain resilience post-COVID-19.  
The authors define resilience as the ability to withstand disruption and recover normalcy. Viability is similar, but it isn't just about enduring change – it's also about surviving. It's this ability to guarantee a long-term presence in shifting circumstances that can make supply chains even stronger. This longevity approach focuses on redesigning systems and infrastructure to become more proactive in preparing for future shocks. By investing in advanced forecasting technologies, expanding local networks, and increasing domestic sourcing, business leaders can enhance supply chain viability.  
While viability is the top-ranked factor in the study, the researchers emphasize that the most resilient supply chains have multiple safeguards against disruption. Such supply chains generally have managers who work closely with data analysts, encourage supplier collaboration, and make sustainability a priority. These managers can enhance decision-making clarity and predict challenges, guiding businesses through a sustainable and resilient recovery. 
By integrating these factors and enhancing systemic resilience, business policies can help prevent supply chain paralysis during future disruptions. While society works to lay this global pandemic to rest, there are other major interruptions lurking in the background. Climate change and the risks surrounding increasingly frequent and severe weather events, pose comparably serious threats to global supply chains. Equipping supply chain managers with the tools needed to better handle these shocks can decrease the chances of future vulnerability and failure.  
While the business community hasn't previously prioritized resilience, this notion has long been crucial in the eyes of many other groups, including communities of color, environmentalists, and other vulnerable populations. This alignment may inspire future collaboration between communities that seek the common goal of resilience, shaping a promising new normal. 
You might like these articles that share the same topics